The last few years have changed everything, the world of business included. From Financial Services to Healthcare, no industry was immune from swift, significant, and unforeseen changes. While many would like to go back to "business as usual," the reality remains: all organizations are facing incredible change due to increased customer expectations, new technologies, and ever-changing market conditions. Our research found that not everyone is thriving—but Responsive Enterprises are.
A Responsive Enterprise embraces change to create competitive advantage. These organizations lead by iteratively evolving capabilities and culture to reimagine business and reinforce resiliency in the face of constant change. In our experience, this approach is critical to sustained success; however, only 15% of firms are truly responsive to new developments driving today's economy. Is yours one of them?
Changes we can all relate to
2020 catapulted nearly everyone into a vortex of seemingly endless change. From transitioning to remote work in many industries, to relying more heavily on digital infrastructure and stressors of pandemic life, individuals and businesses were pushed to—and sometimes beyond—their limits.
Early on, we noticed that some organizations fared better than others, and hypothesized that Responsive Enterprises didn't just respond to change; they were resilient to it. They viewed change as a differentiator and harnessed it as an opportunity to maximize competitive advantage.
Our research confirms that enterprises are better able to respond and thrive in the face of change when they focus on three key areas: customer centricity, operational effectiveness, and agility. Customer centricity is the ability to identify and respond to customer needs; operational effectiveness demonstrates the ability to adapt operations to market change; and agility is the ability to ensure continuity through organizational resiliency and adaptivity. Increased maturity in these areas predicted longevity of an organization and its place in the competitive landscape.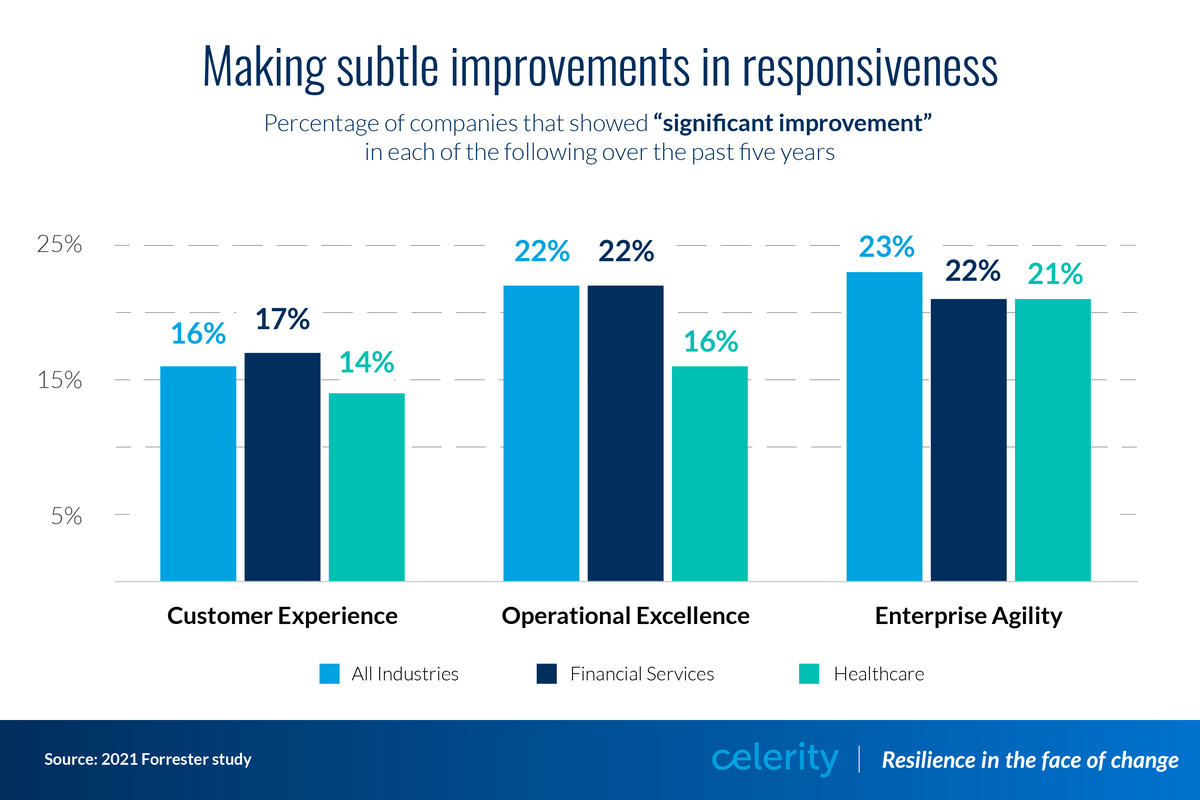 Combined, these focus areas help businesses rapidly adjust to deliver better business outcomes in unpredictable business conditions. This investment results in impacts beyond just revenue, profit, and the bottom-line—responsiveness impacts every aspect of business from employees to consumers and all the intricacies in between.
Responsive Enterprise maturity
The collective results show mature Responsive Enterprises are more likely to achieve key business goals compared to less mature firms, with notable impact outlined in the image below. The silver lining takeaway? There is so much room (and market share) available for improvement and success.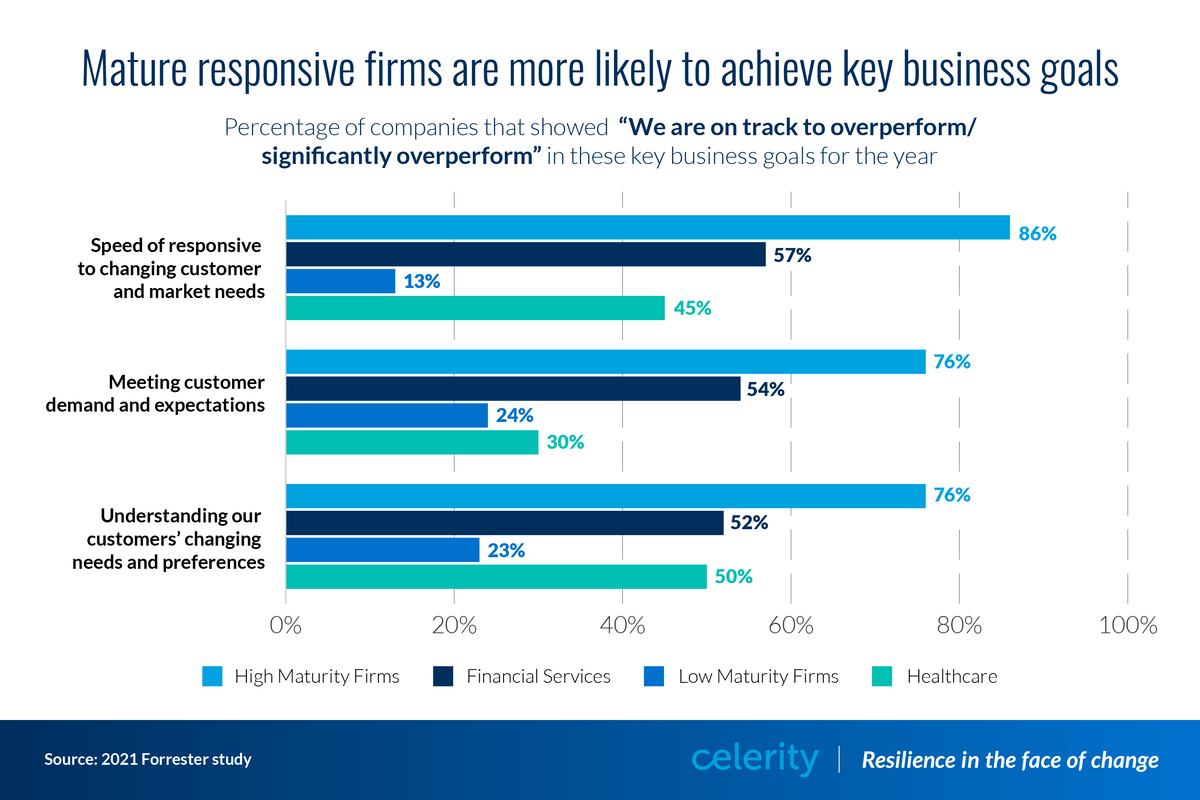 Mature vs. less mature Responsive Enterprises
Let's compare two industries: Financial Services and Healthcare. Organizations in the Financial Services industry tend to measure as more mature in their responsiveness. And while adjustment was needed when the worldwide pandemic hit in 2020, the industry was in a better position to pivot compared to other workplaces: customers could still access their financial assets, many employees could do their jobs remotely, and the digital side of institutions allowed for maintenance and growth.
But even with their more mature responsiveness programs, Financial Services firms still had to scramble when the world (and business) changed as we knew it, all while maintaining trust and focusing on accessibility for their customers. These firms must also address the large market of people who do not have digital access to their finances or are not inclined to use them, serving a wide band of generational preferences as well as unbanked and underbanked populations. Over 400 financial institution executives predict the following shifts by 2025:
83% believe predictive (personalized) advice & product recommendations will be available to all customer segments
77% believe over 75% of new accounts will be opened through digital channels
74% believe over 90% of retail customer onboarding will happen in digital self-service channels
70% believe over 50% of customers will open a new financial relationship with a fintech and/or big tech providers
66% believe branch locations will decrease by 20%
With these shifts, ask yourself: can your teams, processes, and technology adapt to and deliver on these changing customer needs and expectations? If you are not responding, a competitor will.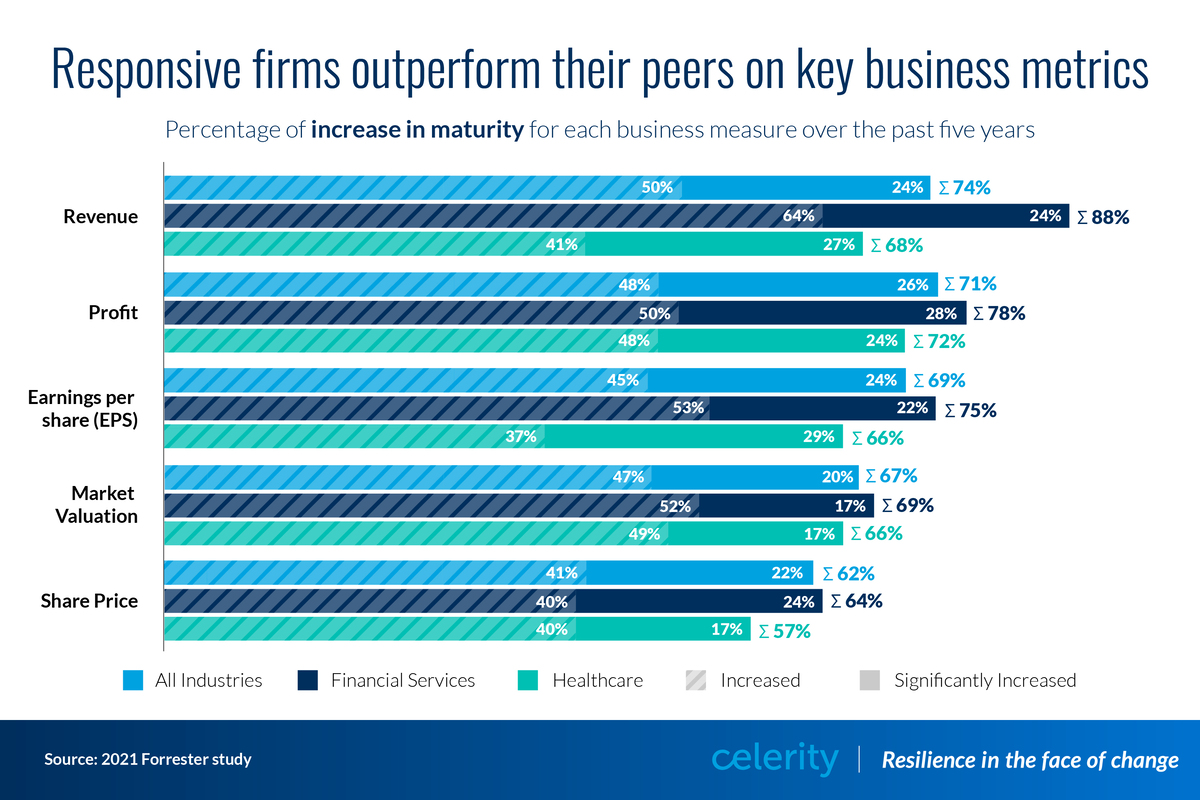 By comparison, 2020 turned the Healthcare industry upside down. An industry known to be resistant to change was forced to make significant changes in real-time as the pandemic unfolded. For this less mature industry, it was both a shock to the system and a wake-up call.
Before the pandemic, Healthcare systems had dabbled in telehealth, with most using stand-alone, "bolt on" tools to provide a tiny fraction of services. Then, literally overnight, these disruptive, "bolt on" tools were suddenly better positioned—and better able to respond—to a radically changed marketplace than established hospitals and clinics.
When Healthcare clients ask how to respond to outside disruptors who pose a threat to their market share, we point to how disruptors rapidly and iteratively leverage a customer focus, operational adaptability, and agility to meet demonstrated patient and provider needs. Our data shows that any enterprise—even complex, regulated enterprises like health systems—can become Responsive Enterprises.
Legacy Healthcare systems who invest in the three pillars Responsive Enterprise can be as "disruptive" and responsive to change as start-ups or big digital platform who are pivoting into Healthcare. Significant incumbent advantages—brand recognition, existing patient relationships and great doctors—mean that even a small improvement in responsiveness can help Healthcare organizations compete with and potentially defeat these and other competitive challenges.
What makes a Responsive Enterprise different
We've seen the gravity and pace of change send people and organizations into a tailspin—but it doesn't have to. Shifting from paralysis to resiliency is attainable regardless of your situation. The data below highlights the impact and importance of highly mature responsiveness programs. Their investments are driving differentiation and market share for mature, responsive firms and resulting in increased competitive advantage.
The opportunities and guidance are there for nearly any organization to become a Responsive Enterprise. Wherever you are on this journey, let's continue to be resilient in the face of change and harness that change for continued success and improved business outcomes.
---
Markwell, K., Brennan, M., & Nickelson, D. (n.d.). Businesses Tested by Uncertain Times Emphasize Importance of Responsive Enterprises. Business Insider. https://br.affino.com/technology/businesses-tested-by-uncertain-times-emphasize-importance-of-responsive-enterprises
Keep up with the latest on Responsive Enterprises
Sign up for our quarterly e-newsletter, the perfect combination of thought-provoking original and curated content designed to spur dialogue and thinking around increased resilience in the face of change.